Thank you for visiting the website of the Etherow Country Park Sailing Club, the only sailing club in Stockport. Feel free to browse our site and see what we have to offer.
Etherow is a friendly club (when racing we experience good-natured rivalry!) and we welcome everyone: from those who may never have put their foot in a dinghy before, to Olympic team coach. Membership is inexpensive and we have some club boats that can be used, for a nominal charge, during the early stages. There are plenty of boats for sale within the club and elsewhere for very little money.
Sailability Foundation Centre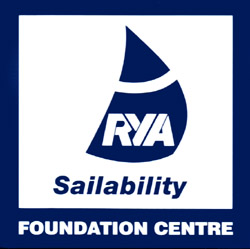 Etherow Country Park Sailing Club has been approved as a Sailability Foundation Centre which means we are working to open up the sport of sailing to people with diabilities from Stockport and neighbouring areas.
We are affiliated to the Royal Yachting Association, the recognised national body for sailng.
Sailability is the RYA programme which each year introduces 40,000 adults and children with disabilities to the sport.
Sailing is one of the few sports in which able-bodied and disabled people can compete on equal terms. More information about the programme can be found on the RYA website.
This club has been checked for suitability for offering the programme as signified by the awarding of this status. As sailors we know the joys (and sometimes the frustrations) of enjoying the natural forces of wind and water.
Some people are unable to see the trees in our country park setting, or perhaps never hear the swish and gurgle of the water. They might not be able to move from one side of the boat to the other in a hurry. But there is still a lot they can get from the sport.
We want to work with local organisations to develop our contribution to Sailability and open up more opportunities for those with challenges to build on their abilities. If you are involved in such an organisation, please get in touch by emailing sailabilty at ecpsc.org.uk.
Come and Try Sailing
We are taking part in the RYA Push The Boat Out weekend in 2014, giving visitors a chance to try out our sport. Our taster event is scheduled for Saturday 17 May.
It is an ideal opportunity for those who have thought about sailing to come along and ask whatever questions they may have as well as gaining experience of going out on the water.
There will be a variety of boats to take to the water in, ranging from single-handed Toppers which are ideal for youngsters through to Wayfarers which suit those who are less athletic.
Visitors will be able to borrow bouyancy aids and other sailing attire to wear on the day. We advise old clothes and footwear that will not suffer from being splashed. A spare set of dry clothes is a good idea.
To help us to plan the day, we ask you to get in touch via our Contact page.
Subscriptions due
It is that time of year when subscriptions become due. If you are a club member you can eityher pay in full or spread the payments over nine months. But to do that you must give a new Standing Order to your bank for the relevant amount to be debited. To take advantage of this, you must commence payments in January. If you have not received a slip with the relevant details on, please contact our new Membership Secretary, Lynda Howarth on 0161 449 9586