Thank you for visiting the website of the Etherow Country Park Sailing Club, the only sailing club in Stockport. Feel free to browse our site and see what we have to offer.
Etherow is a friendly club (when racing we experience good-natured rivalry!) and we welcome everyone: from those who may never have put their foot in a dinghy before, to Olympic team coach. Membership is inexpensive and we have some club boats that can be used, for a nominal charge, during the early stages. There are plenty of boats for sale within the club and elsewhere for very little money.
Celebrate the Festive Season
Father Christmas Arrives in Etherow

By Boat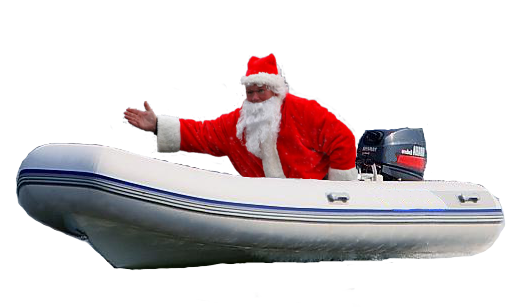 Christmas Eve

16.45 Prompt

Bar and Mince pies

No cover charge, donations will be welcome to cover our costs.

Merry Christmas to all our Etherow friends
and a Happy New Year
Great performance at 24 Hour Race
Well done Team Etherow: masses of combined effort resulted in a 17th position finish in the annual 24 Hour Dinghy Race at West Lancs Yacht Club in Southport (Sept 13-14 2014). This was a result the club can be really proud of because it was achieved with a real mix of abilities.
Our boat ended up ahead of many 'A' Teams from other clubs who had concentrated their best helms and crews to make a bid for glory.
Team Etherow had started with the number 39 and hopes of making up some ground. There was also a determination to give as many people as possible their first taste of the event even though they only learnt to sail on our 2014 Course. To have achieved both objectives is amazing and is a tribute to the attitudes of people within the club.
Top performing sailors lifted the boat up the order with no complaints when some of their hard-won places slipped as less experienced combinations took to the water.
There were a lot of 'nerves' among those doing the race for the first time - understandable when their first full-on roll tacks happend in the first 15 metres after leaving land. They did their best and thanks to good sailing conditions there were no capsizes (we think all clubs had a clean slate on that one).
Sailability Foundation Centre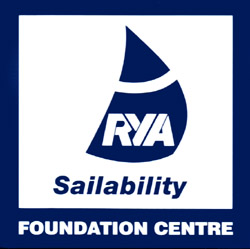 Etherow Country Park Sailing Club has been approved as a Sailability Foundation Centre which means we are working to open up the sport of sailing to people with diabilities from Stockport and neighbouring areas.
We are affiliated to the Royal Yachting Association, the recognised national body for sailing.
Sailability is the RYA programme which each year introduces 40,000 adults and children with disabilities to the sport.
Sailing is one of the few sports in which able-bodied and disabled people can compete on equal terms. More information about the programme can be found on the RYA website.
This club has been checked for suitability for offering the programme as signified by the awarding of this status. As sailors we know the joys (and sometimes the frustrations) of enjoying the natural forces of wind and water.
Some people are unable to see the trees in our country park setting, or perhaps never hear the swish and gurgle of the water. They might not be able to move from one side of the boat to the other in a hurry. But there is still a lot they can get from the sport.
We want to work with local organisations to develop our contribution to Sailability and open up more opportunities for those with challenges to build on their abilities. If you are involved in such an organisation, please get in touch by emailing sailabilty at ecpsc.org.uk.